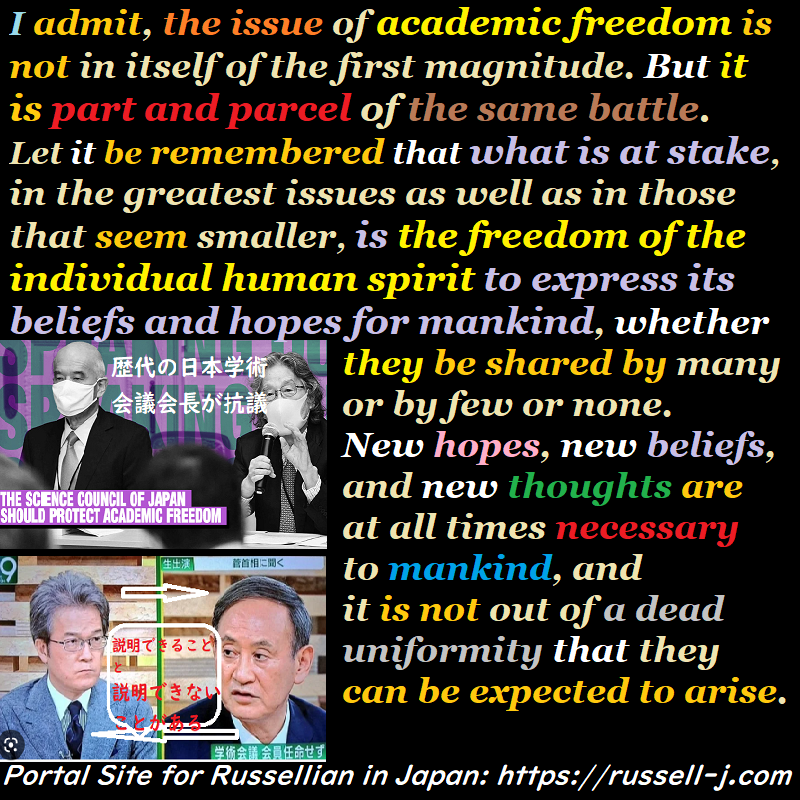 I admit, the issue of academic freedom is not in itself of the first magnitude. But it is part and parcel of the same battle. Let it be remembered that what is at stake, in the greatest issues as well as in those that seem smaller, is the freedom of the individual human spirit to express its beliefs and hopes for mankind, whether they be shared by many or by few or none. New hopes, new beliefs, and new thoughts are at all times necessary to mankind, and it is not out of a dead uniformity that they can be expected to arise.
Source: Freedom and the College, 1940.
In: American Mercury, v.50: May 1940, p.24-33. * Original title: Problems of academic freedom.
* This article was originally pub. in May 1940, very shortly after Judge McGeehan's finding that Russell was "unfit" to be a professor at City College, New York.
* Repr. in: (51)Why I am not a Christian, and ..., 1957.
* Repr. in: (66)B. Russell's America, v.1, 1973.
More info.:
https://russell-j.com/cool/FC_1940.pdf
---