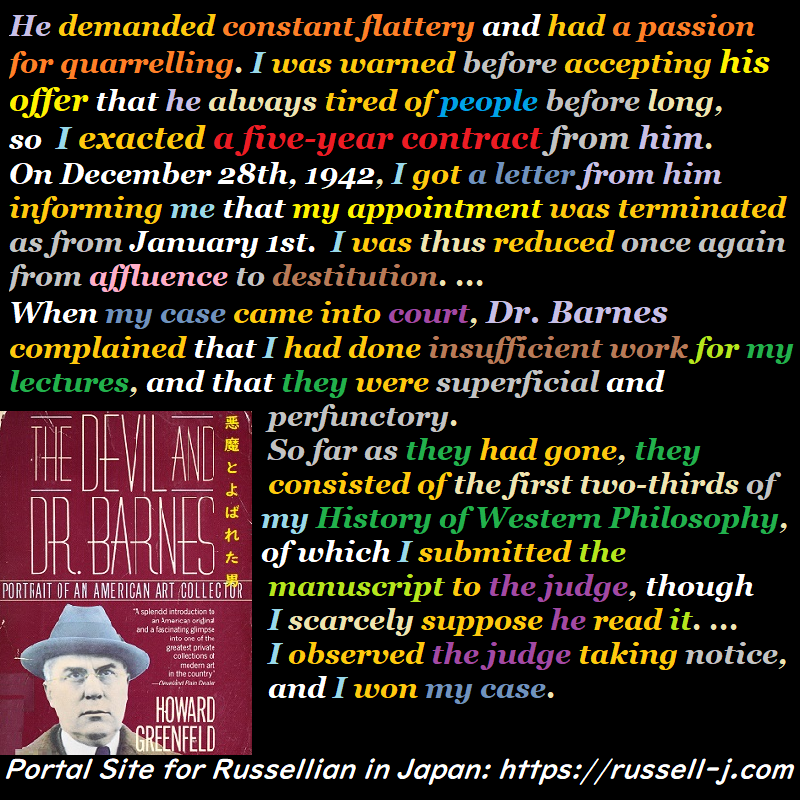 He demanded constant flattery and had a passion for quarrelling. I was warned before accepting his offer that he always tired of people before long, so I exacted a five-year contract from him. On December 28th, 1942, I got a letter from him informing me that my appointment was terminated as from January 1st. I was thus reduced once again from affluence to destitution. ...
When my case came into court, Dr. Barnes complained that I had done insufficient work for my lectures, and that they were superficial and perfunctory. So far as they had gone, they consisted of the first two-thirds of my History of Western Philosophy, of which I submitted the manuscript to the judge, though I scarcely suppose he read it. Dr. Barnes complained of my treatment of the men whom he called Pithergawras and Empi-Dokkles. I observed the judge taking notice, and I won my case.
 Source: The Autobiography of Bertrand Russell, v.2
 More info.:
https://russell-j.com/beginner/AB26-060.HTM
Copyright: (c) Akiyoshi Matsushita (松下彰良) All Rights Reserved.