Bertrand Russell Memorial Volume, ed. by George W. Roberts: Contents
* Source: Bertrand Russell Memorial Volume, ed. by George W. Roberts (London; Allen & Unwin, 1979. 488 p. 22 cm. Muirhead library of philosophy)
---
Contents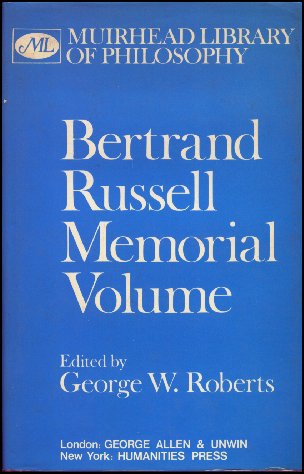 Preface by G. W. Roberts.
1.Bertrand Russell, 1872-1970(by Gilbert Ryle)
2.Propositons and sentences(by Alan R. White)
3.Russell's paradox and some others(by W. C. Kneale)
4.A dianosis of the liar and other semantical vicious-circle paradoxes(by Charles S. Chihara)
5.A refutation of an unjustified attack on the axiom of reducibility(by John Myhill)
6.On constrained denotation(by Abraham Robinson)
7.Is philosophy 'an idleness in mathematics?'(by Abraham Robinson)
8.Post Principia(by R. L. Goodstein)
9.Russell and modal logic(by Nicholas Rescher)
10.Russell and Bradley on relations(by Timothy Sprigge)
11.On Russell's critique of Leibniz's philosophy(by Stephan Korner)
12.On some ralations between Leibniz's monadology and transfinite set theory; a complement to Russell's thesis on Leibniz(by Joel I. Friedman)
13.The infinite(by Morris Lazerowitz)
14.Beliefs as a propositional attitude(by Alan R. White)
15.Truth, belief and modes of description(by R. M. Martin)
16.The concern about truth(by Frederick L. Will)
17.Russell and the form of outer sense(by Jay F. Rosenberg)
18.Russell's theory of perception(by D. J. O'Connor)
19.Russell and Schlick; a remarkable agreement on a monistic solution of the mind-body problem(by Herbert Feigl)
20.Self-acquaintance and the meaning of 'I'(by G. N. A. Vesey)
21.Some aspects of knowledge(1)(by George W. Roberts)
22.Russell's philosophical accounts of probability(by Bas C. van Fraassen)
23.Foundations(by Renford Bambrough)
24.Russell's ethics(by W. I. Matson)
25.Russell's judgement o Bolshevism(by Anthony Flew)
26.Solipsistic politics; Russell's empiritist liberalism(by Benjamin R. Barber)
Index.
---