ラッセル「回心」
* From:
Portraits from Memory and Other Essays
, pt. B, chap.4 (1956)
---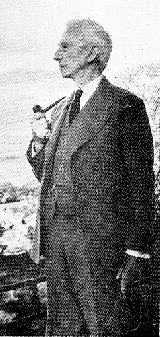 一九〇一年の初め、私は宗教的な人が「回心」(conversion)と呼ぶものに似た体験を味わった。突然、多くの人々が味わう孤独をマザマザと感じ、この悲惨な孤独を救う方法を強烈に願った。数分の経過の中で、南アのボーア戦争に対する心情が変ってしまった。
 「
自由人の信仰
」という私の一文はこの時に生れた。ホワイトヘッドと共に、十年間にわたり、最大に精力を傾倒した本、『数学原理』(全3巻)が完成し、このヘラクレス的作業に没頭した後で、それまでに経験しなかった
精神的余裕
が生れ、戦争(=ボーア戦争)が私に与えた問題意識を再検討する知的な気持になった。
 第一次大戦勃発(一九一四年)当初、
政治と個人的心理との関連の重要性
に心を打たれた。人間の集団が一緒に行動するのは、彼らに共通する情熱の結果であり、政治理論家の強調するものと違うことを突然悟った。好戦的群集を目撃して、精神分析学者の考え方と似かよった考えを抱いた。
( But early in 1901 I had an experience not unlike what religious people call "conversion". I became suddenly and vividly aware of the loneliness in which most people live, and passionately desirous of finding ways of diminishing this tragic isolation. In the course of a few minutes I changed my mind about the Boer War, about harshness in education and in the criminal law, and about combativeness in private relations. I expressed the outcome of this experience in "The Free Man's Worship". But I was absorbed, with my friend Whitehead, in the herculean task of writing
Principia Mathematica
, a book which occupied the best energies of us both for a period of ten years. The completion of this task left me with a new degree of mental freedom, and therefore ready intellectually as well as emotionally for the re-direction of my thoughts that was brought about by the war.
During the first days of the war, I was struck by the importance of the connection of politics and individual psychology. What masses of men agree to do is the result of passions which they feel in common, and these passions, as I was suddenly compelled to realize, are not those that I found emphasized by most political theorists. I was at that time completely ignorant of psycho-analysis, but observation of Warlike crowds inspired me with thoughts having much affinity with those of psycho-analysis, as I afterwords discovered.)